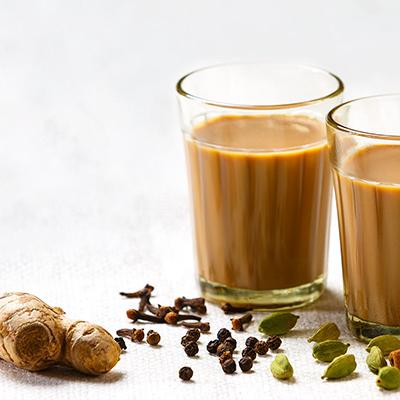 Ingredients
2 cups Water
4 teaspoons Sugar
2 teaspoons Darjeeling Tea Leaves
1/4 cup Milk
1/2 inch cinnamon
2 to 3 pieces Green Cardamoms
2 pieces Cloves
1 inch Ginger
Directions
Take 1/2 inch cinnamon, 2 to 3 green cardamoms, 2 cloves and 1 inch ginger in a mortar pestle, crush coarsely and keep aside.
Heat 2 cups of water (250 ml) in a saucepan.
Let the water come to a boil and then add the crushed spices.
Boil the spices along with the water for 2-3 minutes.
Add sugar as per taste.
Add 2 teaspoons of Darjeeling tea and boil for a minute.
Add milk and boil for 2-3 more minutes.
Pour the tea through a strainer into the cups.
Serve masala chai hot with some Indian snacks or cookies.
More delicious cocktails