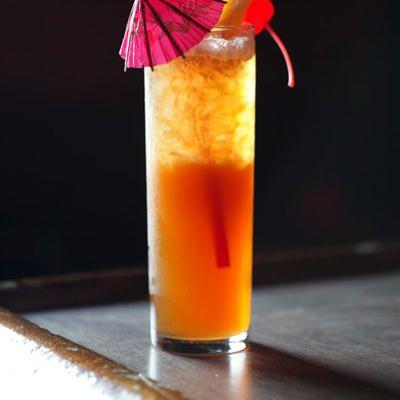 Ingredients
2 parts Light rum or Aged rum
3/4 part Dark rum or Demerara rum or Spiced rum
3/4 part Orange juice
3/4 part Pineapple juice
3/4 part Passion fruit syrup or Passion fruit liqueur
1/4 part Falernum liqueur or Falernum syrup
1 teaspoon Honey syrup
1 dash Aromatic bitters or Orange bitters or Peach bitters
3/4 part Overproof aged rum or Overproof light rum
Directions
Put everything (except the overproof Demerara rum) in a blender with about a cup and a half of ice.
Blend on high until liquidified, pour into a tall glass, and top with more ice.
Top with the overproof rum by slowly pouring over the back of a spoon.
Garnish with fruits, herbs, little paper umbrellas, etc.
Serve!
More delicious cocktails