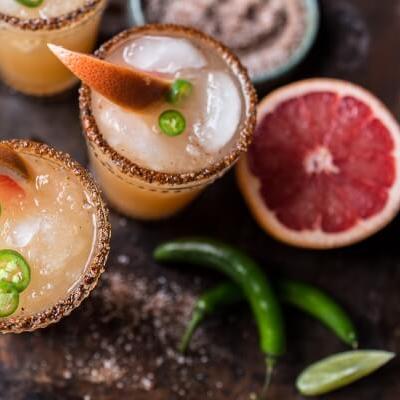 Ingredients
1 1/2 - 2 ounces silver tequila
2 1/2 ounces grapefruit juice
1 ounce fresh lime juice
1 tablespoon agave nectar: to taste
1-2 slices jalapeno: depending on spiciness of drink
1 tablespoon chilli powder
1 tablespoon kosher salt
2 tablespoons granulated sugar
slices of lime + grapefruit: for serving
Directions
, combine the chili power salt and sugar in a bowl.
Mix well to combine.
Use this mixture to rim your glasses.
Combine all the ingredients in a cocktail shaker and fill with ice.
Shake until combined and then strain into your prepared glass.
The longer you shake the drink, the spicier it will become.
Add a grapefruit wedge and a slice of jalapeño if desired.
Cheers!
More delicious cocktails