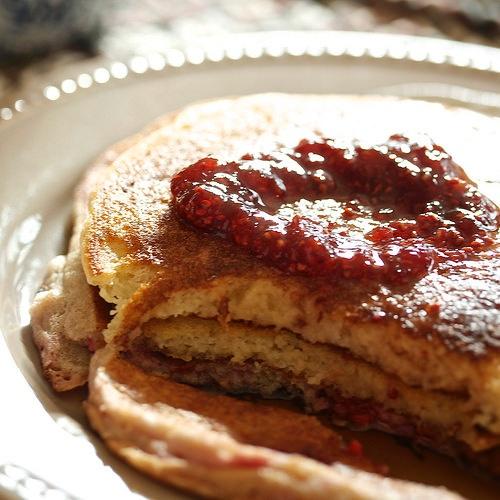 3 servings

My Rating: ★★★★★
Ingredients
6 tablespoons of butter
1 cup whole-wheat pastry flour
1/2 cup all-purpose flour
1 teaspoon baking powder
1 teaspoon baking soda
1 teaspoon salt
2 eggs, separated
1 3/4 cups buttermilk
Directions
Melt the butter.

Whisk the dry ingredients together in a large bowl.

In a medium bowl, whisk the 2 egg yolks and the buttermilk until combined.

Make a well in the center of the dry ingredients, pour in the liquid mixture, and stir until just barely mixed.

Add the melted butter and mix until just combined.

In a medium bowl using an electric mixer, whip the egg white until soft peaks form.

Fold into the batter.

Ladle 1/4 cup (for smallish pancakes) to 1/2 cup (for large pancakes) of the batter onto a preheated griddle or non-stick pan.

Cook until bubbles appear on the surface and the underside of the pancakes are golden brown, about 2-4 minutes.

Turn them over and cook until done, about 2-4 minutes longer.
Notes
Blueberries would be perfect in these pancakes; try about a cup or so. We use frozen berries when we can get them – sadly not blueberries, however – and particularly like raspberries. Fresh would be lovely, too.
More delicious recipes