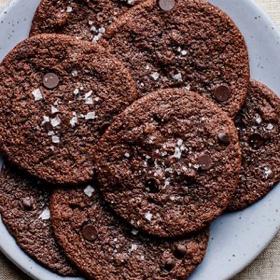 Servings: 12 servings

15 mins

10 mins
Ingredients
1 1/2 cups almond flour
1/2 cup unsweetened cocoa powder
1 teaspoon salt
1 teaspoon baking soda
3/4 cup/12 tablespoons unsalted butter (room temperature)
3/4 cup sugar-free sweetener
2 eggs
1 teaspoon vanilla extract
1 cup sugar-free chocolate chips
Garnish: sea salt
Directions
Gather the ingredients. Preheat the oven to 350 F and line 2 rimmed sheet pans with parchment paper.

Add the almond flour, cocoa powder, salt, and baking soda to a bowl. Whisk until thoroughly combined and set aside.

Cream the unsalted butter and sweetener using a hand mixer or stand mixer. Beat until lightened in color and fluffy.

Mix in the eggs and the vanilla extract.

Stir in the flour mixture, just until incorporated, then fold in the chocolate chips.

Scoop out approximately 1 1/2-ounce balls and place on 2 prepared sheet pans. Note that these cookies will spread a little, so keep them a couple of inches apart on the baking sheets.

Flatten the top of each cookie very slightly and sprinkle with a bit of sea salt.

Bake for 8 to 10 minutes until just set. The cookies will be very soft but will firm up slightly as they cool.
More delicious recipes