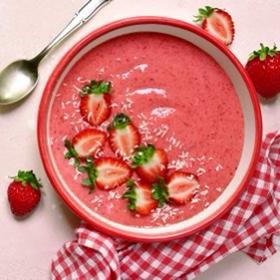 Ingredients
4 tablespoon Ice (frozen water)
1 cup, unthawed Strawberries frozen unsweetened
5 leaves Basil fresh or raw herb
1/2 cup Almond milk unsweetened fortified
1/2 cup Greek yogurt plain whole milk
1 teaspoon Chia seeds
Directions
Add 4 ice cubes to the blender. Let sit for 5 minutes to soften.

Add frozen strawberries, basil, almond milk, yogurt, and chia seeds and blend until smooth. Enjoy!

Enjoy healthy recipes created by our Registered Dietitians!
Notes
If you prefer a sweeter taste, try mixing in 2-3 drops of liquid stevia or the sweetener of your choice.
4 tbsp is equivalent to about 4 ice cubes.
More delicious recipes