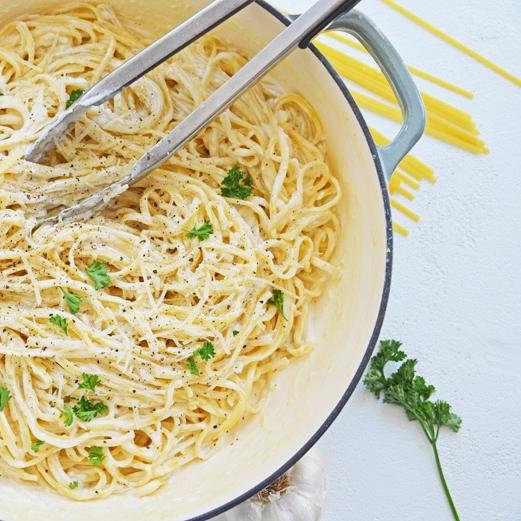 2 servings

5 mins

10 mins

My Rating: ★★★★
Ingredients
½ pounds Linguine Pasta
½ cups Cooking Liquid From Pasta
2 Tablespoons Salted Butter
¼ cups Heavy Cream
½ cloves Garlic, Finely Minced
Salt And Pepper, to taste
¾ cups Parmigiano Reggiano (Use The Real Stuff!)
Fresh Parsley For Garnish (optional)
Directions
Bring a large pot of water up to boil.

Sprinkle in a generous amount of salt and stir in pasta.

Cook linguine until al dente.

Drain, reserving 1/2 cup cooking liquid.

Place linguine back into the hot pot.

Stir in butter, cream, garlic, salt, pepper and cheese until butter and cheese start to melt and create a sauce.

Pour in some pasta water to get the sauce to the consistency you want (I only used about 3 tablespoons).

Taste and adjust seasonings accordingly.

Pour onto a serving platter and top with fresh parsley and more grated cheese.
Notes
I used a microplane for grating the garlic and the parmesan cheese right into the pot. If you are using pre-grated store bought parmesan cheese, I'd recommend using about 1/2 cup.

This recipe only gives only a hint of garlic. Adjust the garlic level according to your preference!
More delicious recipes