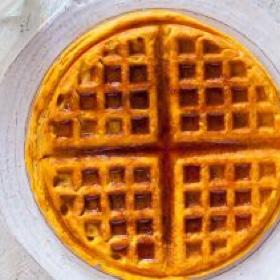 Ingredients
1 cup whole wheat flour
1 cup all-purpose flour
4 teaspoons baking powder
1/2 teaspoon cinnamon
1/4 teaspoon clove
2 eggs, seperated
1 1/2 cups skim milk
1 cup pureed cooked sweet potato
3 tablespoons oil
2 teaspoons grated orange rind
1 tablespoon granulated sugar
Directions
In large bowl, mix together flour, baking powder and spices.

In seperate bowl, whisk together egg yolks, milk, sweet potato, oil and orange rind.

Pour wet ingredients over dry ingredients, stir together until just moistened.

In a bowl with electric mixer, beat egg whites until soft peaks form; add sugar, beat until stiff peaks form.

Fold into batter; pour batter onto a heated nonstick lightly greased waffle iron.

Cook until golden brown until waffle iron stops steaming, about 5 minutes.
Notes
NOTE: These waffles freeze well; After freezing, just microwave them for about 30 seconds and pop them briefly into the toaster.
More delicious recipes